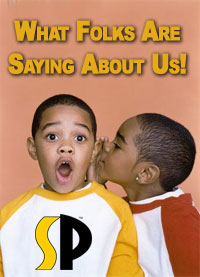 It's nice to get compliments and often times our Soul Pitt visitors take the time out to write us a nice note. We would like to share a select few with you. Notes are from visitors, advertisers and friends.
We really thank you for your kind words and encouragement. Emails like these are what keeps us going just when you think you can't go anymore.
If you would like to send us comments to let us know how we are doing just email us at comments@thesoulpitt.com
---
It's the place to find out what's going on in Pittsburgh for African Americans. There was nothing like it before it and there still isn't any other website that compares to it today. Keep up the good work and thanks for the free tickets.
---
SoulPitt was a GREAT resource that I used while a resident of the 'Burgh for my years in grad school. You helped to make my experience in Pittsburgh a Soulful one, and I am most grateful for that. The time has come for me to relocate, which is why I have removed myself from your mailing list. Thanks again for a wonderful e-newsletter and keeping the community abreast on events and all.
Stay Soulful!!!
---
I like that Soulsis keeps it current. She continuously changes the content to reflect what is going on during the current time. Some websites tend to slack on keeping their information refreshed and new but the Soulpitt stays current. I also enjoy the posts on the messageboards. There are many regular posters who seem to have a good realtionship but also express different opinions without alot of negativity. It is nice to see that people can agree to disagree without drama.

---
Ms. Baxter has seemed to be able to tap into some of the best kept secrets of the Burg. I appreciate the the time and effort of evoking awareness of what our fair city has to offer. SoulPitt provides every opportunity to gain experience in things that we would have most interest in. I am also intrigued by the multicultural aspect of the site. I embrace learning about different cultures and feel that it contributes to the type of well-rounded person I strive to be. SoulPitt is a centralized location that has something for everyone. These are only a few of my thoughts regarding the site but the bottom line is...Job Well Done.

---
Dear Soul Pitt,
I want to thank you for sending the e-blast for tickets to preview movies. My mom and I enjoy the passes and use it as a nice time out. Also, getting the passes is a GREAT way to become more familiar with African American businesses in town. I just came from The Mighty Dog and bought lunch as well. Thank you for all you do and please keep me on your e-lists as I appreciate being informed and the treats (like the movie passes) that you often offer.
Sincerely,
Sheila B.
---
Hey Soulsis,
Congratulations on your recognition by the Post-Gazette. It is well deserved.
I have your site on my favorites and hit on it at least once a day. If I donít, I feel like Iím missing something :)
When I have free time, I look to SoulPitt to constructively fill that space. I am also sure to pass on anything and everything that I feel others may find of interest. If I canít attend a function I like to think that I have urged someone else to go represent and show support.
Thank you for having the foresight to believe that the ĎBurgh was untapped and the guidance to show that we have a lot to offer if you know where to look.
Nichole D.