For Immediate Release April 4, 2007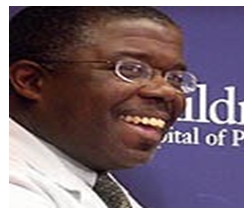 University Hospitals Case Medical Center's Rainbow Babies & Children's Hospital has announced and appointed Edward M. Barksdale, Jr., MD, FACA, and FAAP as the new chief of pediatric general surgery. Dr. Barksdale will be the first holder of the Robert J. Izant, Jr., MD Chair in Pediatric Surgery.
"We are honored and fortunate to have Dr. Barksdale join our team and lead the pediatric general surgery division. He is the perfect candidate to be the first physician to hold the Izant chair," said Jeffrey L. Ponsky, MD, chairman of surgery, University Hospitals Case Medical Center. "He brings tremendous talent and passion with him, and he will help take Rainbow's surgical expertise to an even higher level of patient care and service." Dr. Barksdale's recruitment is consistent with University Hospitals' investment in surgical innovation as a component of the Vision 2010 strategic plan.
Dr. Barksdale delivered the 2nd Annual Robert J. Izant, Jr., MD, and Memorial Lecture on February 17, 2007 at 8:30 a.m. in the Rainbow Babies & Children's Hospital Amphitheater. The title of his lecture was, "New Horizons in the Management of Pediatric Intestinal Failure: A 12-year Surgical Perspective." This lecture was received by his future peers and other notable attendees with raving reviews.
The public is already aware that Dr. Barksdale is currently and has been a leader in pediatric surgery at Children's Hospital of Pittsburgh since 1994. Dr. Barksdale is often highlighted in the media as the spokesperson and specialist about medical issues that arise in the news. His work in early neonatal and fetal surgery includes performing the region's first ex-utero intrapartum procedure for a child with a life-threatening neck mass. He has introduced innovative procedures and care for children with complex surgical conditions, particularly in-utero malformations and Short Bowel Syndrome. In Pittsburgh, Dr. Barksdale was also the co-director of the Fetal Diagnosis and Treatment Center at Children's and Magee Women's Hospital.
Dr. Barksdale earned a bachelor's degree from Yale University and his medical degree from Harvard Medical School. He completed a fellowship in pediatric surgery at Children's Hospital Medical Center in Cincinnati. He will officially take his post at Rainbow on June 1, 2007.
"The strategic recruitment of Ed Barksdale to Rainbow is the next step in our focused growth and development of pediatric surgical care," said Alan R. Cohen, MD, surgeon-in-chief at Rainbow Babies & Children's Hospital. "His expertise is a perfect complement to the skills we already have in our team of surgical specialists, and his arrival will allow us to offer new procedures and programs for our patients in our newly-created Minimally Invasive Pediatric Surgery Center at Rainbow."
Rainbow established its Minimally Invasive Pediatric Surgery Center in 2006, thanks to a $1.5 million gift from The Cleveland Foundation. The investment was the largest gift The Cleveland Foundation has ever given to a hospital. With continued support and additional funding, the hospital hopes to expand the services and minimally invasive surgical technology available to patients.
The Izant Chair is awarded to a prominent pediatric surgeon who is able to lend distinction to the program and contribute to Rainbow Babies & Children's Hospital's reputation, and who will follow in the tradition of Dr. Izant, continually striving for excellence in pediatric surgery.
Dr. Izant was the founder of the division of pediatric surgery at Rainbow in 1958 and served as chief of that division, as well as surgeon-in-chief, until 1990. During his tenure at University Hospitals, pediatric surgery became a recognized and well-respected specialty. Dr. Izant established the highest standards for surgical care for children at Rainbow Babies & Children's Hospital. The Robert J. Izant, Jr., MD, Chair in Pediatric Surgery was established in 2000 in recognition of his contributions.
About Rainbow Babies & Children's Hospital
For over 120 years, Rainbow Babies & Children's Hospital at University Hospitals Case Medical Center has been dedicated solely to the care of children. As one of the most renowned pediatric medical centers and a principal referral center for Ohio and the region, Rainbow physicians will receive more than 200,000 patient visits annually. The 244-bed hospital is home to 850 pediatric specialists and 40 special care centers including Centers of Excellence in oncology, neonatology, neurology and endocrinology. As a teaching affiliate of Case Western Reserve University, Rainbow trains more than 100 pediatricians each year and consistently ranks among the top children's hospitals in research funding from the National Institutes of Health. Rainbow was recently ranked as the #4 best children's hospital in the country by U.S. News & World Report.
###
What a lost to Pittsburgh! However, The Soul Pitt Staff and volunteers wish the honorable Dr. Barksdale, his beautiful, sweet, supportive and talented wife Michele and their four gifted children: Tres, Drew, Gil and Morgan all the best as they plan their move to Cleveland , Ohio.